I've always wanted an extended idle switch for my Jeep Cherokee. The Police Package XJs were equipped with an extra toggle switch that raised the idle rpm of the Jeep to 1100rpm when it was in park or neutral. All XJs from 1997+ have the ability to do this, but they lack the switch. The switch is something of a holy grail - very few were made and the last of the new old stock (NOS) were sold on eBay for hundreds of dollars. Not all is lost though, as with some ingenuity and a bit of wiring we can make a nearly identical one ourselves.
This project is going to combine a NOS OEM fog light switch with a "fake" extended idle faceplate to provide factory backlighting and switch illumination. We'll use this hybrid switch to run a relay to activate the extended idle system.
Disclaimer: I am not a professional. This is for informational purposes only. Please use fuses for all wiring, properly secure all wires, and don't do anything stupid. Please be careful with the project and never connect 12v positive to your PCM by accident!
The Simple Way
You can use a simple toggle switch to connect pin A12 to ground to enable the high idle. But my goal is to replicate the look and function of the factory original switch.
With that out of way, we can continue with this project.
Collect the Supplies
An Air On Board Extended idle toggle switch This is the "fake" switch. It's a three wire switch, and we only need the face plate.
OEM factory fog light switch These are available on eBay. Save one from a junkyard if at all possible.
OEM factory fog light switch pigtail Retailers don't usually send the connector that we'll need with an OEM switch. These can be found on eBay, but go to a junkyard if you can. All XJs have an extra one for the fog light even if the fog light package wasn't installed. Be sure to clip it with the longest pigtails that you can.
A relay to run the extended idle system Any four wire auto relay will work.
Wiring and connectors I really prefer to match factory wiring colors. In particular, the A12 wire from the computer is grey. I solder and heat shrink wiring.
Overview
The Jeep XJ 4.0 in 1997+ vehicles will enter extended idle when pin A12 from the computer is grounded. The factory switch did this on its own. Unfortunately, the closest available switch is a fog light switch. These switches can only control a positive hot wire. We'll need to use a positive fog light switch to control a relay that will ground pin A12.
I hate cutting factory harnesses, and so I've taken an extra step in my installation. There is an engine connector on the passenger side of the motor that contains a gray wire that runs all the way back to pin 12. You can add a new pin to this connector and run this wire to your new relay. This prevents you from having to cut any wires.
Factory Service Manual
The extended idle switch will control a ground circuit going to the powertrain control module (PCM). When a ground signal (through the switch) has been received at pin/cavity A-12 (circuit K78) of the PCM, engine idle speed will increase.
The FSM has a diagnostic test that outlines the system and offers troubleshooting advice. It's a great resource. It's in section 14-43, and I've got a screenshot of it for reference.
Circuit Diagram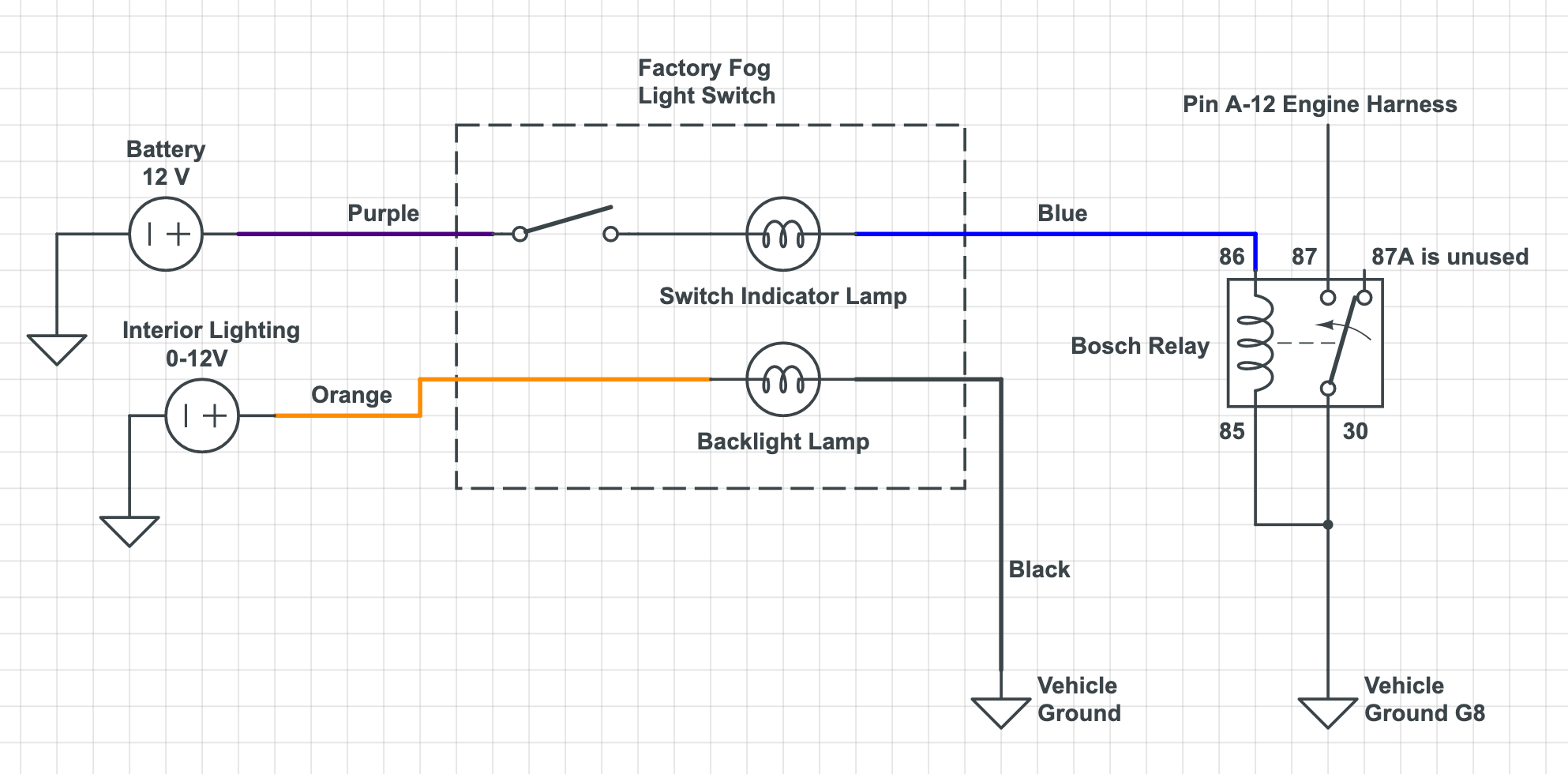 This is the circuit diagram for using a factory fog light to control the extended idle.
Other Tutorials
There's a fair bit of information about this online. Some of the forum posts are starting to age, and so I'll host my own photos here to try and preserve this. You can cross reference these, there's lots of good information in them.
Extras
I have a fairly cheap benchtop power supply that I really enjoy having around. It makes it easy to mock up these sorts of projects before installing them. I've got a multimeter that is no longer being sold. One day I'll have a Fluke, but until then the little one I've got is good enough. For a project like this the continuity tester is especially nice. It's really nice if it's a nice loud tone for hearing it over other fans and equipment. Imagine hearing it under the hood while you're flipping a switch inside the Jeep!
1. The Goal
2. The Plan
3. Find an OEM Fog Light Toggle Switch
4. Comparing the Air On Board to OEM Switch
5. Disassemble both switches
6. Fitting the new face onto the OEM switch body
7. Drill the hole to 1/8"
8. Assemble and test the hybrid switch
9. Mock on the benchtop
10. Test operation on the benchtop
11. Install the new switch into the dash
12. Locate the engine connector
13. Get a pin from a spare wiring harness connector
14. Add the wire to the connector and run a new wire
15. Add this new wire to your harness
16. Connect this pin A12 to the relay
Summary
This was a fun project. It combines a little but of Jeep XJ history with a practical application. If you haven't worked with relays before this is a fun project. I recommend building this on the bench first, as you'll get a chance to fiddle with the components and take some of the mystery out of relays. Please be careful with the project and never connect 12v positive to your PCM by accident! Questions or comments? Let me know!
---